we are a family runing hotel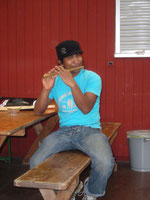 Ram grew up in Chitwan, Meghauli, Nepal.
After finishing his school, he went to pokhara to find a job, so he could support his family.
He worked in a Rafting company for 3 Years and became a safety Kayaker. Sometimes he also worked us a trekking guide and brought the people to his homeplace to show them an other Nepal, as well as the nepali Culture.
In pokhara he also met his wife  Petra, and since 2008 they are living in switzerland together.
It was Ram's Dream to come back to his Village and give the possibility to the people to see the beauty of the place!
In 2004 Petra came for the first time to Nepal and fell in love with the country and the people!
The great Variety , the Beauty of the country and the nepalese Culture.
So she came back yearly , made a lot of contacts and got many beautiful experiences....as a nurse in a healthproject, or at the many different festivals. She already spent many days in the mountains and on the rivers.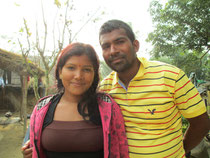 Raju Dhai und Bhauji
Dhai is Ram's older brother. He was living long time in India and Kathmandu, where he worked as a Cook and a Tailor. Since the opening of the Bamboo Lodge he is also Manager and Driver. Due to the work in the Lodge he can stay close with his wife and children.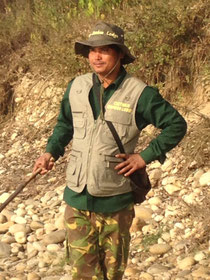 §
Aita Ram Kumal ist our senior Jungle Guide!
he is doing his Work with passion!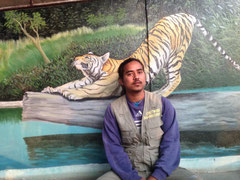 Arun Pariyar ist our junior Guide!
he is also with us since the begining...